Architecture
Below are some selected samples from Ben Hirsch's more than 4 decades of architecture.
In addition to his practice in religious architecture, Mr. Hirsch has also designed many homes, commercial, retail, industrial and municipal buildings, and medical emergency centers.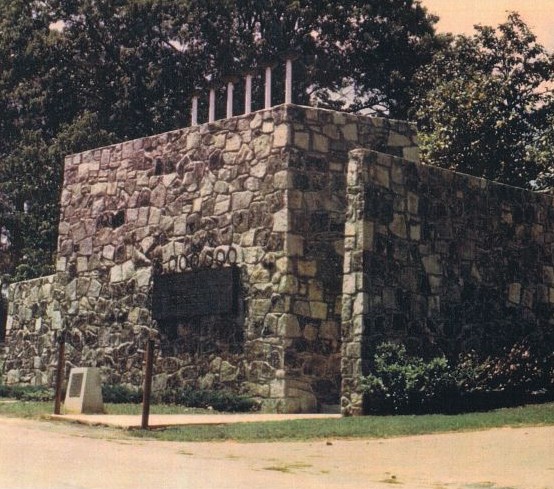 Memorial to the 6,000,000 martyrs of the holocaust in Greenwood cemetary, Atlanta, GA. This moving memorial was Mr. Hirsch's first national design award winner. You can see more of it on the "Memorial" page.
---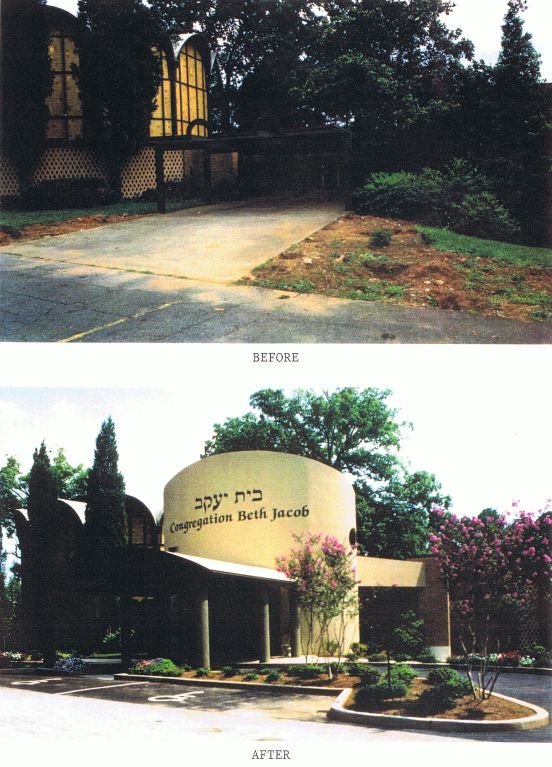 Rotunda and Lobby addition for Congregation Beth Jacob, before and after. Top photo shows canopy and small lobby; lower photo shows new lobby, rotunda and entrance canopy. Last of many projects completed for Congregation Beth Jacob, this building was selected to receive one of DeKalb County's first awards for Excellence in Design.
---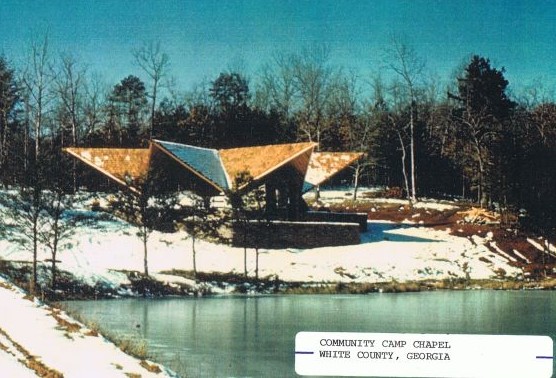 Doris Zaban Chapel at Camp Barney Medintz. This is an open-air chapel to accomodate 100 worshippers, and have the capability to be a multi-purpose space. This design has been published in several national trade magazines, and a presentation of it was part of a tour conducted by the Guild for religious Architecture. The structure is quite unique, with a 51-foot clear span between piers, the largest member of the structure being only a 4x9 inch wood beam. This lightweight construction is sturdy because it is arranged in a series of hyperbolic parabaloids with a central steel tension ring. From the air, the outline of the roof forms a star of David.
---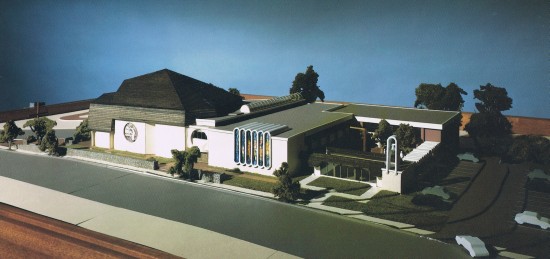 People's Congregational United Church of Christ, Washington, DC. Garden, arbor wall and new sanctuary for this historically African American congregation. The following is quoted from a fundraising brochure: "The New Sanctuary is an architechural expression of the African-American Religious Experience at its finest. The development of the African-American motif was first envisioned by a group of dedicated Peoples Church members who, after a nation wide search, selected Benjamin Hirsch and Associates ... to bring our design to fruition. While the design of the new complex is African, it is also European; representing the best of all worlds claimed by the clasical African-American tradition. Materials used in the building will be of the finest quality, although earthy and natural texture. This magnificent structure is a place where everybody can be somebody."
---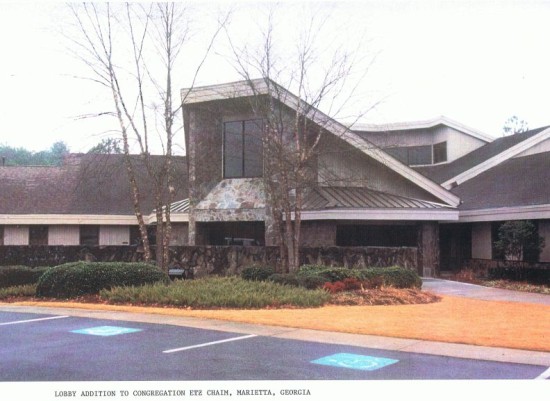 Congregation Etz Chaim in suburban Atlanta: this photo shows the lobby that was added as part of the '94-96 expansion of the facility from the original 250 seat low budget building (originally designed to expand, by Mr. Hirsch) to 2500 maximum seating.
---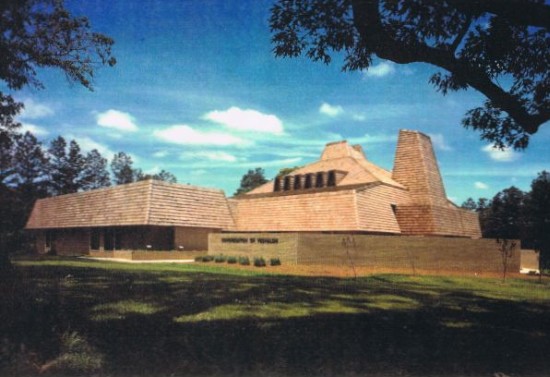 Congregation Or VeShalom, suburban Atlanta, winner of a national design award. This project was particularly challenging because the congregation's needs required 30,000 square feet of area, but their budget allowed the construction of only 18,000 s.f. The project was designed was designed using multiple multi-purpose space to provide the required usage with the 18,000 s.f. allowed. This project was awarded an Honor Award for Excellence in Design by the National Conference of Religious Architecture in April of 1971. The sanctuary is shown below: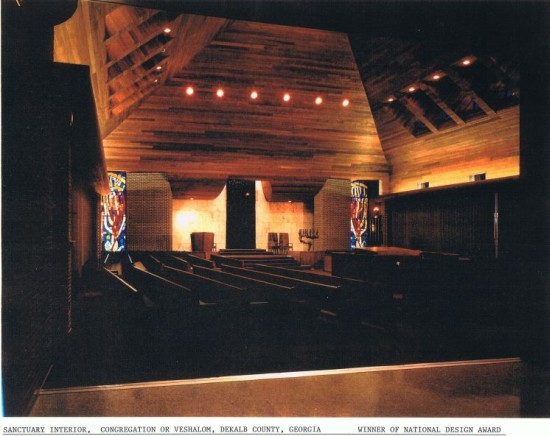 ---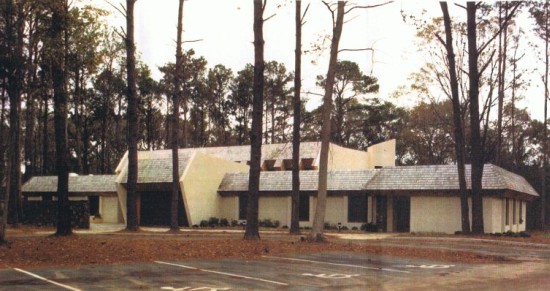 Synagogue Emanu-El of Charleston, SC.
---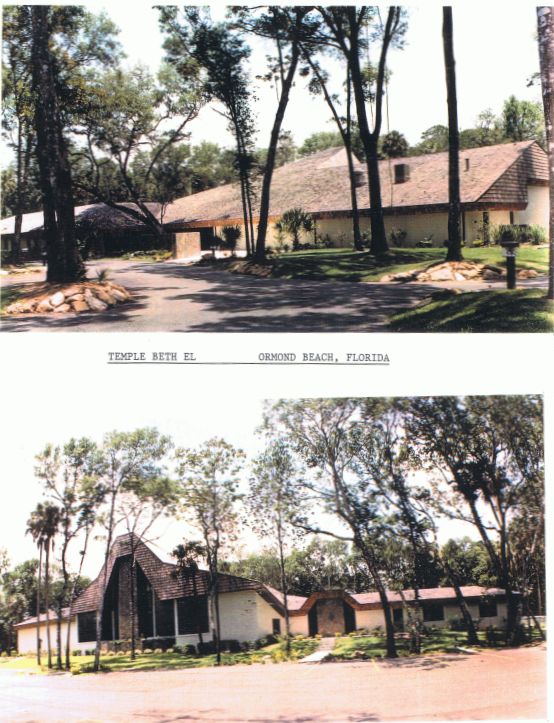 Temple Beth-El, Ormond Beach, FL, front and rear views (1979). The sanctuary featured the first-ever use of a social hall located to the side, for expansion of sanctuary seating for high holidays, a design which has been widely copied since, as it allows auxiliary seating to be closer to the focal points of the service than the traditional rear social hall that had been used previously.
---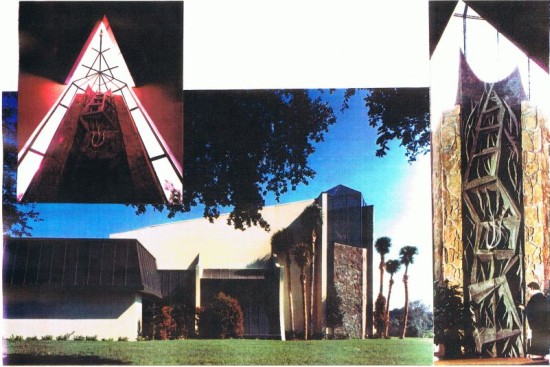 Temple Bnai Israel, Clearwater, FL. The design charge for this project called for stark white walls in the sanctuary; the only area for a design statement was in the area of the ark. The imagery of Jacob's Ladder is used as the motif for the ark executed by CA artist Daniel Gluck. "And this stone that I set up as a pillar shall be G-d's house" (Genesis XXVIII-22)
---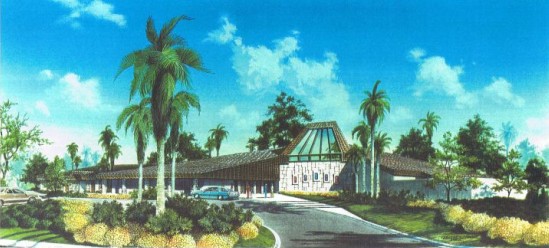 Design for Temple Israel satellite location, Miami FL. Due to zoning difficulties, this building could not be realized.