A Different Drummer
also by Benjamin Hirsch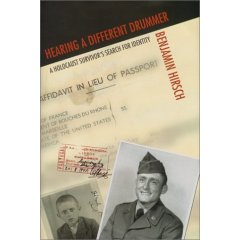 Hearing a Different Drummer:
A Holocaust Survivor's Search for Identity
In this book, Korean War veteran, prominent Atlanta businessman and architect Benjamin Hirsch recounts his awakening identity as an observant Jew. While serving in the United States Army during the Korean War, Hirsch faced the ridiculousness of army life as well as the horror of war from a unique perspective, that of a child survivor of the Holocaust.
He also found that as a Jew he was regarded as alien and as a man he must cope with being a soldier in the United States Army during the Korean War. Memories of the Shoah are brought back by wartime experiences in Korea. Hirsch also used his position in the Army to get back to Germany and search for lost relatives. Amazingly, he is able to relate amusing experiences, showing how he and others coped with the difficulties of living amidst horror.
In the course of his research, Hirsch found evidence supporting the claim of many survivors that the Nazis made soap from the bodies of some Jews. This is presented in hope of reopening discussion of this horrific and controversial topic that has divided survivors and historians.
What they're saying:

Jim Galloway (The Atlanta Journal-Constitution)
It is possible to chase your nightmare half-way across the globe, only to discover that it won't be cornered—and that another fearsome creature sits in its place. Benjamin Hirsch, an orphan of the Holocaust, was a young architectural student in Atlanta who signed up for a hitch as a private in the US Army during the first icy breaths of the Cold War. His object: to get to Germany and trace the last days of his mother, father, and two siblings, all of whom perished in concentration camps. But once there, Hirsch uncovers a world of dead ends.
And instead of facing down the horrors of his childhood, Hirsch finds himself in an often absurd struggle to survive in a military universe. If you've ever been a private in someone else's army—or felt like one—you'll identify with Hearing a Different Drummer. This is a memoir of a different sort, bound to have a distinguished place in the histories of Atlanta and its people.

William B. Helmreich, Professor of Sociology at CUNY Graduate Center and Winner of the 1993 Jewish Book Award for Against All Odds: Holocaust Survivors and the Successful Lives they Made in America

Hearing a Different Drummer is a remarkable achievement. Benjamin Hirsch, a Holocaust survivor and prize-winning architect, has written a book that demonstrates the power of human beings to overcome tragedy and lead productive lives. Through the prism of his experiences in the US Army we learn universal lessons about how to cope with adversity and about human nature in general. Amazingly, all of this done in a disarmingly humorous way that engages the readers' attention from start to finish. Funny, provocative, and at the same time, deeply moving.

Rabbi Emanuel Feldman, Rabbi Emeritus, Congregation Beth Jacob, Atlanta, Georgia, Editor, Tradition Magazine

Powerful yet touching, compelling yet gentle, honest yet sensitive, this gripping and true account of the Holocaust child grown into manhood is more than the story of one person: it encapsulates the story of an entire generation that witnessed man's brutality to man. This memoir adds another dimension of quiet faith and courage to the literature of the Holocaust. It should be read by all thinking people.